Spirit of Alaska 2024
7 Day Tour Itinerary
The Spirit of Alaska tour is a 6 night, 7 day Alaska land package. The tour begins and ends in Anchorage, Alaska.  Travel north to explore Denali National Park. After that, travel south to enjoy a glacier day cruise of Kenai Fjords National Park.  Ride aboard the Alaska Railroad dome rail-cars to see breathtaking views.  Tour a working sled dog kennel to learn about this long-time Alaskan sport.
These small tour groups are a maximum 13 passengers and 1 Alaska resident guide traveling mainly by small coach. These 7 day tours are designated for travelers of age 13 and above.
7 DAY ALASKA TOUR: Our days begin 8-9 am and end 8-9 pm, with a little flexibility. Travel is at a comfortable pace. We enjoy several stops along the way to get out of the vehicle often. Optional activities can be arranged to enjoy a more personalized experience.
Meal packages vary with tours. Included meals are listed at the end of each day in the schedule. If meals are not included, then access and assistance to dining is still provided by the guide.
Alaska Day 1
Arrival Day, Anchorage, Alaska
Today is the scheduled arrival day into Anchorage, Alaska.
The arrival day is an unguided day. Meals and activities for this day are the traveler's own expense. The tour rate includes the cost of a hotel room and tax. A breakfast voucher for tomorrow morning will be included.
Hotel: The Lakefront Anchorage, offers modern, lodge-like accommodations on the shores of Lake Spenard and Lake Hood. From a lakeside deck, guests can watch over 800 float planes land every day at Lake Hood, the largest and busiest floatplane base in the world. This hotel offers complimentary 24/7 airport service and daily shuttle service to the downtown Anchorage area and the Alaska Railroad Depot. Deluxe rooms feature one King or two Queen beds.
Day 2
HIGHLIGHTS: Escorted Tour Begins; Sled Dog Kennel tour; Denali, Alaska
A breakfast voucher for hotel dining is provided.
8:00 am Meet your Alaskan Tour guide in the hotel lobby to begin your exciting Alaska tour. This 7 day Alaska tour travels with a small group, in a deluxe small coach. A longtime Alaska resident will be your driver-guide. Benefit from local resident knowledge and first hand experiences. Your ATG guide provides genuine Alaskan hospitality and concierge-level service to provide you the best vacation experience. Depart Anchorage to travel north to Denali Park.
Make an in-route stop in Willow, Alaska. This Alaska town is the heart of mushing country. Tour Dream a Dream Kennels to meet the team of Vern Halter, a veteran Iditarod musher. Presentations weave the history of the Iditarod into an informative and interactive experience. Take a ride on a multi-seat All Terrain Vehicle. These dog limos are the most realistic way to ride with a sled dog team in the summer months It's great training for the dogs and you'll see how they love it!
A private group lunch and more time with the mushers is one of those personal experiences to remember.
Continue the drive to our destination, Denali National Park.
Denali Bluffs Hotel newest rooms in Denali feature spacious river view rooms with two Queen or one King bed.
MEALS: B, L | DRIVE TIME: 5 hours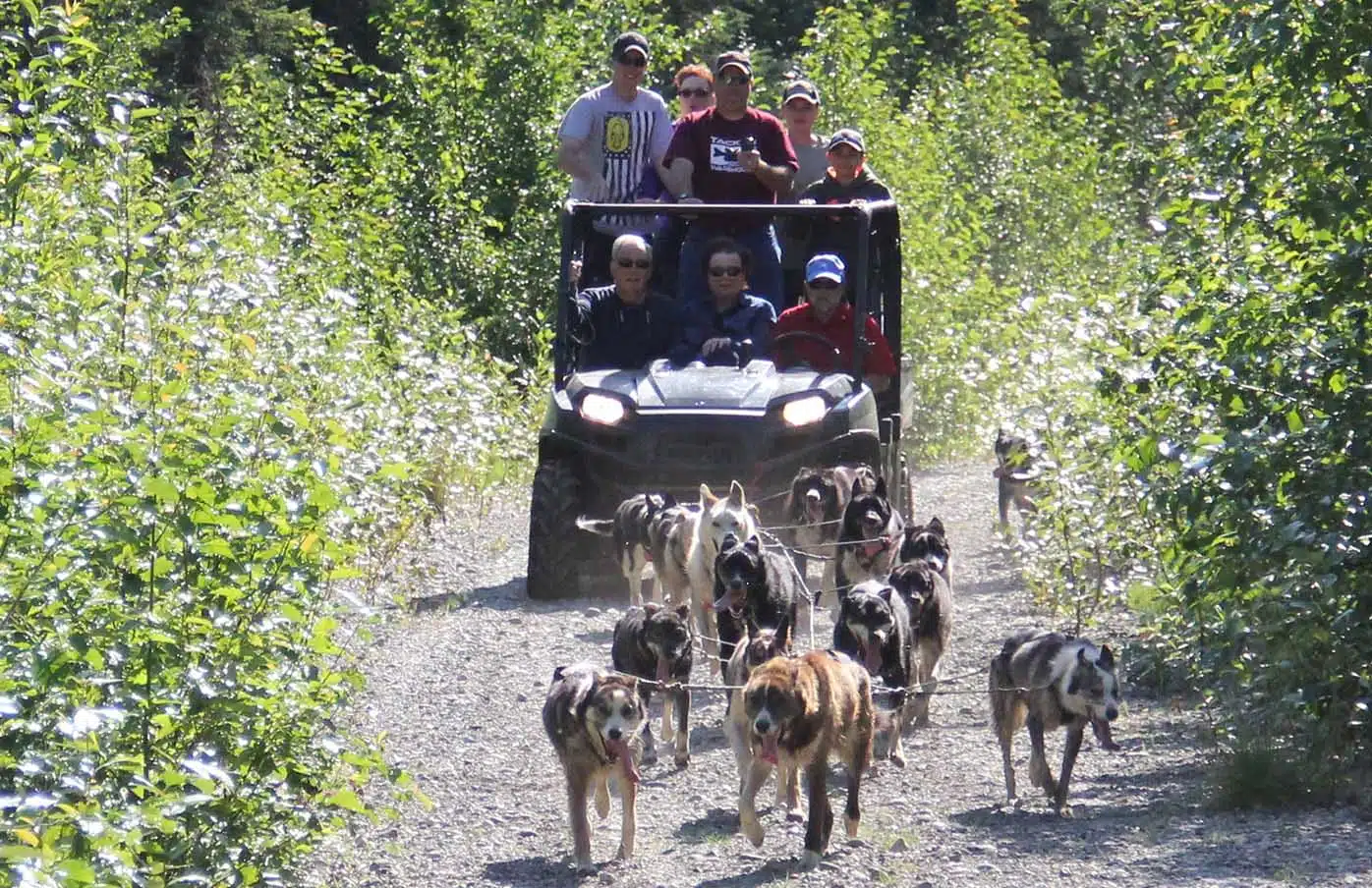 Alaska Tour Day 3
TOUR DAY HIGHLIGHTS: Denali National Park Transit
This morning includes a Breakfast voucher for hotel dining.
Depart for Denali Park entrance. Denali National Park and Preserve, which is located in Interior Alaska, features Mt. Denali, the highest mountain in North America. Park lands encompass more than 6 million acres of scenic wilderness. A trip into it entreats visitors to an experience of a lifetime.
The Denali Park Road parallels the Alaska Range. Scenic travel through low valleys and high mountain passes. This is the only road inside the park. Along its route, sightseeing of beautiful landscapes at every turn, and a view of Denali – if weather allows. Witness wildlife in its natural habitat.
The turnaround point for your park experience will be at Mile 43 of the park road.
This shuttle travels 43 miles one way, 6 hours round trip if you stay with the same bus. It stops every hour and 15 minutes for view points and restroom stops. The shuttle bus will stop for wildlife when sighted.
Your ATG guide will arrange for a boxed lunch for you to take along.
Spend your second night at the Denali Bluffs Hotel.
MEALS: B, L | DRIVE TIME: 30 min. plus Park Shuttle (not all drive time)
Day 4
TOUR DAY HIGHLIGHTS: Alaska Railroad Goldstar – Denali to Talkeetna; Wasilla, Alaska
This morning includes a Breakfast voucher for hotel dining.
11:20 am check in to board The Denali Star, the Alaska Railroad's flagship train, GoldStar Service from Denali to Talkeetna. On this Alaska tour route, sparkling salmon streams and stands of birch and spruce come into view, while carpets of fireweed add dramatic purple to the scenic landscape. Enjoy first-class service aboard double-deck dome cars.
The train departs at 12:20 and your guide will meet you with your luggage in Talkeetna at 4:40 pm. Next, depart Talkeetna by ATG small coach for the drive to our overnight destination in Wasilla.
Lake Lucille Inn guests enjoy beautiful mountain and lake views along with comfortable accommodations. Guest laundry and wireless internet available. A full hot breakfast buffet is provided each morning. Deluxe rooms feature a lake view.
MEALS: B, L | DRIVE TIME: 1.5 hours | RAIL TIME: 4 hours 15 minutes.
Tour Day 5
TOUR DAY HIGHLIGHTS: National Scenic Byway; Begich Boggs Visitor Center; Seward, Alaska
Hot breakfast Buffet included.
Travel south along the Seward Highway. This National Scenic Byway passes through some of the most spectacular sightseeing in the country. The landscape varies from the muddy ocean waters of Turnagain Arm to the icy blue glaciers hanging above. Wildflowers and waterfalls seem to brighten every turn of the road as it glides below rough mountains that pierce thick, heavy clouds. Only Alaska's Seward Highway can offer this particular mix created by climate, geography, and geology.
In-route visit to the Portage Valley. Surrounded by glaciers, the Begich Boggs Visitor Center sits on the shore of the glacial Portage Lake. The visitor center offers an unique opportunity to learn about the Chugach National Forest, America's second largest national forest. Award-winning exhibits, presentations, and movie highlight the unique features of the region.
Continue the drive south.
Seward, Alaska is a picturesque coastal community where the mountains melt into the seas. Resurrection Bay and Kenai Fjords National Park offer spectacular views of wildlife, glaciers and mountains. Stop by the harbor to see returning fish charters and their catch of the day, peruse the souvenir shops, or stroll along the bayfront.
Today includes a group Dinner.
Hotel: The Gateway Hotel. This is Seward's newest hotel. Spacious rooms provide 2 queen beds or one king bed. Includes continental breakfast room. Easy walking distance to shops, dining, and convenient for a walk along the bay under the late evening sun.
MEALS: B, D | DRIVE TIME: 3.5 hours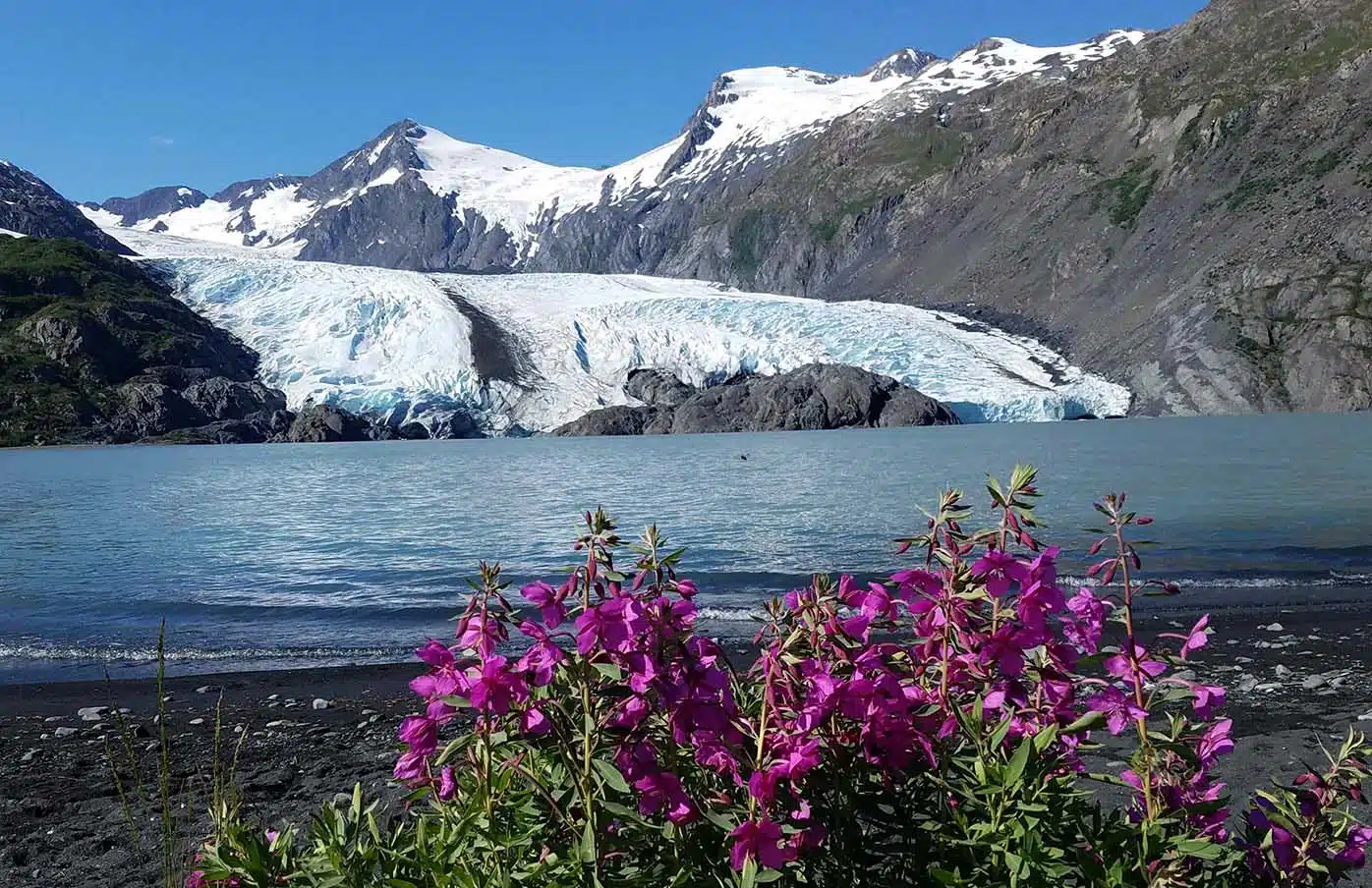 Alaska Tour Day 6
TOUR DAY HIGHLIGHTS: Kenai Fjords National Park Wildlife and Glacier Tour
Hotel breakfast room included.
10:30 am check in for the 6 hour Kenai Fjords National Park tour. This 6 hour Kenai Fjords National Park Cruise explores the world of whales, wildlife, and glaciers found in Kenai Fjords National Park.
Providing a full narration to your journey, an experienced captain will point out the spectacular sights and provide information on the area's ecology, history, and geology. Spend time in front of the mighty Holgate Glacier, an actively calving tidewater glacier. Cruise about islands and coves of the Alaska Maritime National Wildlife Refuge, home to thousands of nesting seabirds including puffins, common murres, and black-legged kittiwakes. Other possible wildlife sightseeing include bears, mountain goats, sea otters, seals, sea lions, porpoises, fish, and whales. This day includes a deli style lunch.
The tour returns 5:30 pm.
Spend your second night at the: Gateway Hotel.
MEALS: B, L | DRIVE TIME: none | CRUISE TIME: 6 hours
7 Day Alaska Tour – Final Day
TOUR DAY HIGHLIGHTS: Alaska Wildlife Conservation Center; Anchorage, Alaska
Hotel breakfast room included.
Travel north as you return along the Seward Highway allowing a second opportunity for magical views and potential wildlife sightings in their natural habitat.
The Alaska Wildlife Conservation Center is a non profit organization that cares for rescued wildlife; injured and/or orphaned. This is a fantastic opportunity to photograph Alaska wildlife up close. See moose, brown and black bear, wood bison, musk ox and many more rescued animals.
3 pm arrival into Anchorage. Any departing flights should be booked for a check in time of 3:30 or later. (We advise a check in time of at least 2 hours prior to departure time).
Time allowed and weather of the day will determine if any City touring is available before drop off. Options include visits to Earthquake Park, Ship Creek, and other downtown locations for shopping, dining or to add small attractions.
*Your 7 day Alaska tour concludes in Anchorage with pre-arranged drop off at the airport or hotel. End of tour drop off is 5-6 pm.
MEALS: B | DRIVE TIME: 2.5 hours
Sign up Today!