Alaska Ultimate Adventurer Tour 2024
12 Day Tour Itinerary
SMALL GROUP ALASKAN ADVENTURE TOUR PACKAGE: This tour ventures off the beaten path a bit by including a stay in the seaside town of Homer. Roam the Homer Spit along the shores of Kachemak Bay, with optional excursions including a bear-viewing flight, guided sea kayaking, or a wildlife cruise. Tour Denali National Park, as well as visit an Iditarod dog sled kennel. In addition, ride the dome cars of the Alaska Railroad, and float amongst icebergs on a glacial lake. Cruise through Kenai Fjords National Park, and also explore the quirky town of Talkeetna. This Alaska adventure tour package starts and ends in Anchorage, heading north to Denali, and south to Seward and Homer.
Maximum 13 passengers traveling with 1 resident Alaska tour guide in one of our deluxe small coaches. Designated for travelers of age 13 and above.
DAILY ITINERARY: Your escorted vacation is spent fully discovering Alaska and meeting Alaskans. Generally, trip days begin 8-9 am and end 8-9 pm, give or take an hour if the day warrants. Travel is at a comfortable pace, with time out of the vehicle to explore many things along the way. Custom and Optional activities can be arranged for an even more personal experience. Travelers should be able to walk unassisted (at least a block and up a few stairs), and in good medical condition in order to participate in this small group tour. Times listed are approximate and if needed ATG may alter the schedule as needed to suit the situation.
Alaska Adventure Tour Package Day 1
HIGHLIGHTS: Anchorage, Alaska
Arrival day into Anchorage is not guided. The tour rate includes the cost of hotel room and tax but does not include meals, activity or expense. The hotel offers 24/7 complimentary airport shuttle.
Hotel: The Dimond Center Hotel offers modern, comfortable accommodations in South Anchorage. Amenities include a refrigerator, microwave, deep soaking tub, & flat-screen TV in each room. Complimentary breakfast, free wi-fi, & 24 hour airport shuttle provided. 1 king or 2 queen Ultimate Dream Beds.
Note: No view rooms at this property.
Day 2
HIGHLIGHTS: Escorted Tour Begins / Talkeetna, Alaska / Denali Park Visitor Center
Hotel breakfast voucher.
8:00 am meet and greet your tour guide, ready to begin your exciting Alaska vacation. Your Alaska adventure tour package includes travel with a small group, in a comfortable executive shuttle and with an Alaska resident as your driver-guide. Benefit from local resident knowledge and first hand experiences. Your ATG guide provides genuine Alaskan hospitality and concierge-level service so you have the best vacation experience.
Next, depart for travel north towards Denali. This travel day allows for several stops in route for scenic views, any wildlife sightings, special highlights and of course, any restroom and meal stops as needed.
Talkeetna
Stop along the way in Talkeetna, Alaska, a historical frontier town with lots of Alaskan flavor! The rustic and charming community is popular with visitors and offers a lot of hospitality with a choice of delicious eateries, quaint shops featuring local artists and even its quirky museums. Some of the best views of the Alaska range and Mt. Denali are seen from this location if weather permits. There is a chance for individual custom fun before departing Talkeetna.
Talkeetna OPTIONALS subject to current Rates: Denali Flightseeing tour with Glacier Landing.
Denali
Afterward, travel to the Denali National Park Visitor Center. This stop offers Denali's visitors a chance to learn more about the park by interacting with rangers, and exploring the exhibit area. There is also an opportunity to view the award winning film "Heartbeats of Denali". The building boasts a number of environmentally sustainable features. Additionally, the Denali Bookstore offers a large collection of educational materials on the natural and cultural heritage of Denali.
Dinner as a group is included in your Alaska adventure tour package.
Hotel: The Grande Denali Lodge offers vistas of the Denali wilderness and the Nenana River that will take your breath away! Spacious guest rooms are a comfortable place to relax and recharge. 1 king or 2 queen beds.
MEALS: B, D DRIVE TIME: 5 hours
Day 3
HIGHLIGHTS: Denali – Custom Day
Breakfast Voucher provided for full buffet.
Explore Denali your way. Choose from a range of adventures in order to experience this National Park at your own pace. Any costs for additional excursions will be added to your final tour payment.
Leisure and no cost activities such as visiting the Denali Visitor Center, hiking front country trails, taking the free shuttle to Savage River trail for hiking, shopping, or relaxing at your lodging are some of the choices available to you.
Moderate to higher cost options include river rafting (a choice of easier floats or exciting whitewater), ATV tours (driving single seats or riding double to quad), and zipline adventures.
Lunch and dinner meals today are on your own and not included in the tour rate.
Spend your second night at the Grande Denali Lodge.
MEALS: B DRIVE TIME: minimal to/from activity
Alaska Adventure Tour Package Day 4
HIGHLIGHTS: Denali National Park Shuttle
Hotel Breakfast voucher for full buffet. Depart for Denali Park entrance.
10:00 am to 2:00 pm Denali Park Shuttle. Denali National Park and Preserve, located in Interior Alaska, is centered on Denali (Mt. McKinley), the highest mountain in North America. It encompasses more than 6 million acres, and provides visitors with the experience of a lifetime. The Denali Park Road parallels the Alaska Range as it travels through low valleys and high mountain passes. This is the only road in the park. Along its route, beautiful landscapes can be seen at every turn, and a view of Denali is possible, if weather permits. Wildlife can often be seen, though sightings are not guaranteed – they are, after all, wild animals roaming an unfenced land.
Your Alaskan tour guide will arrange for a boxed lunch for you to take along.
The turnaround point for your park experience will be at Mile 43 of the park road. This shuttle travels 43 miles one way, for a 6 hour round trip if you stay with the same bus. It stops every hour and 15 minutes for view points and restroom stops. Furthermore, it stops anytime wildlife is sighted.
Spend your third night at the Grande Denali Lodge.
MEALS: B, L DRIVE TIME: 15 min. SHUTTLE TIME: 6 hours, not all drive time.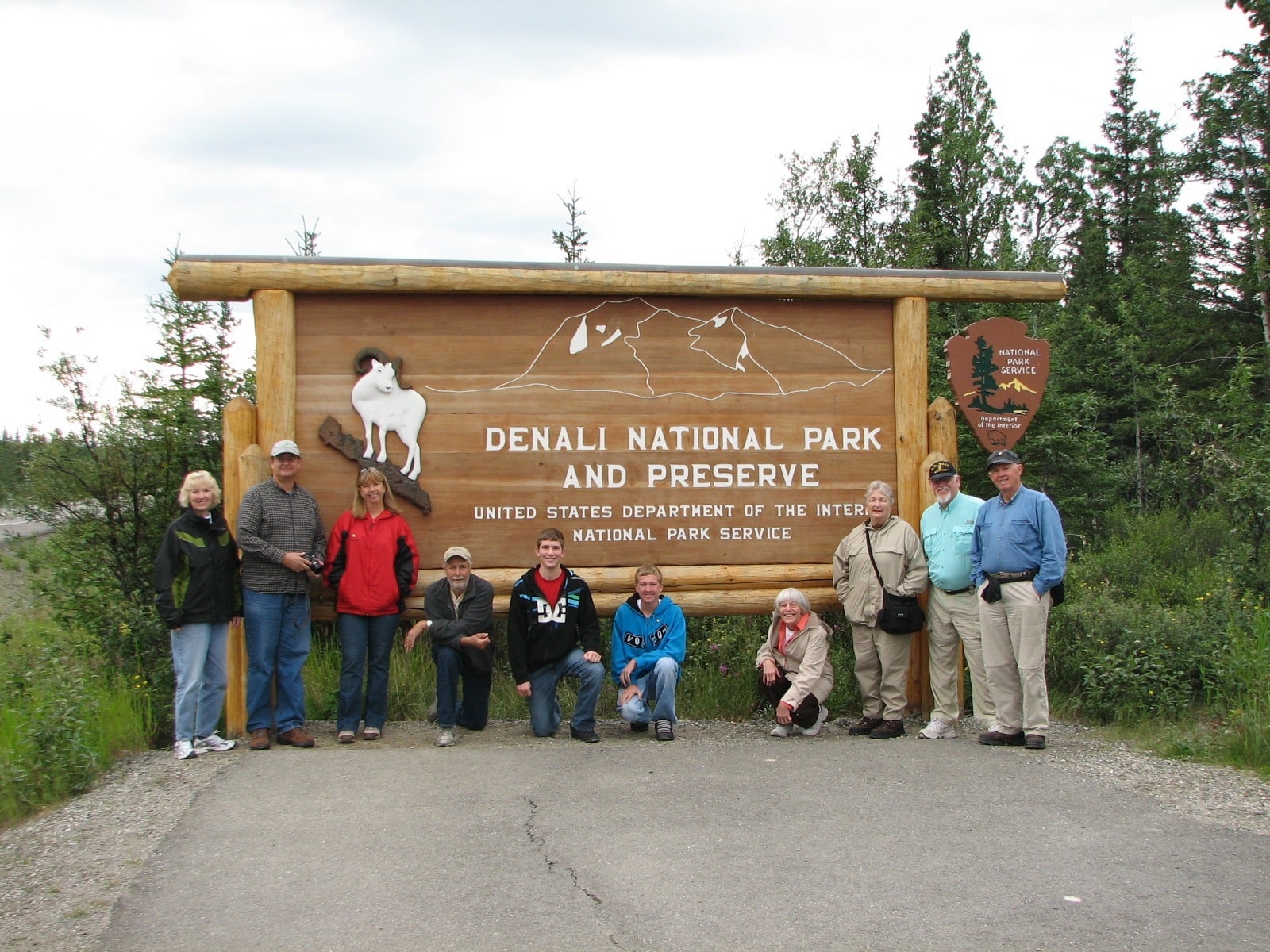 Day 5
HIGHLIGHTS: Alaska Railroad Goldstar – Denali to Talkeetna / Anchorage, Alaska
Breakfast Voucher provided for full buffet.
11:20 am check in to board The Denali Star, the Alaska Railroad's flagship train, GoldStar Service from Denali to Talkeetna. On this route, sparkling salmon streams and stands of birch and spruce come into view, while carpets of fireweed add dramatic purple to the landscape. Enjoy first-class service aboard double-deck dome cars. Luxury rail travel has never been better.
Reserved upper-level dome car seating offers panoramic views, while the upper-level outdoor viewing deck gives passengers the opportunity for fresh air from a great vantage point. These train cars have an exclusive full-service dining room, with lunch and two adult beverages included. Order from the menu of Alaskan cuisine with choices that vary from seafood to reindeer sausage. Adult beverage menu includes award winning Alaskan brewery selections.
The train departs Denali at 12:20. Your guide will drive with luggage, and then meet you in Talkeetna at 4:40 pm
Travel continues to Anchorage with a dinner stop in route. Expected hotel arrival time 8-9 pm.
Hotel: The Dimond Center Hotel offers modern and spacious accommodations in south Anchorage, featuring one King or two Queen beds, free wifi, and bathrooms with separate soaking tubs.
MEALS: B, L RAIL TIME: 4.5 hours DRIVE TIME: 2 hours
Day 6
HIGHLIGHTS: Alaska Wildlife Conservation Center / Travel to Homer, Alaska
Breakfast provided by hotel.
Next, depart for travel south of Anchorage, along the Seward Highway. This National Scenic Byway passes through some of the most spectacular scenery in the country. The landscape varies from the muddy waters of Turnagain Arm, to icy blue glaciers that hang almost to the sea. Wildflowers and waterfalls brighten every turn of the road as it glides below mountains that pierce the clouds. Only Alaska's Seward Highway can offer this particular mix created by climate, geography, and geology.
Visit the Alaska Wildlife Conservation Center, a non profit organization that cares for rescued wildlife, injured and orphans. They promote better awareness of Alaska Wildlife conservation methods through public education, and also offer a fantastic opportunity to photograph Alaska wildlife up close. See moose, brown and black bear, wood bison, musk ox and many more rescued animals.
Homer
This Alaskan adventure tour package is one of few that travels down the Kenai Peninsula to the end of the road and the town of Homer, Alaska. Journey along stretches of Scenic Byway with views of pristine wilderness rivers, glaciers, snow-capped mountains and massive volcanoes in route.
Hotel: Land's End Resort. Features brand new Staterooms with one king or two queen beds, and an expanded picture window. Bathrooms feature LED mirrors, glass door shower, and a separate large soaking tub with a view. Oceanview side rooms.
MEALS: B DRIVE TIME: 4.5 hours
Day 7 of Your Adventure Alaska Tour Package
HIGHLIGHTS: Homer, Alaska – CUSTOM DAY
Hotel Breakfast Voucher.
A quaint town nestled on the shore of Kachemak Bay offering breathtaking views of glaciers, mountains and wildlife. Homer is known to many as the 'Cosmic Hamlet by the Sea' but it was made famous in Tom Bodett's tales as 'The End of the Road.'
A variety of Optional Excursions are available to be reserved for your custom day in Homer. For example, choices vary from easy walks along the beach, short bike rides, sea kayaking, fishing adventures, or bear viewing tours. Available activities, descriptions and costs are provided upon booking. Your Alaskan tour guide will coordinate and provide transport to and from activities.
Spend your second night at: Land's End Resort
MEALS: B DRIVE TIME: minimal to/from activities
Day 8
HIGHLIGHTS: Seldovia Wildlife Tour Day Cruise
Breakfast as a group included.
10:00 am check in for the Seldovia Wildlife Tour. Visit Gull Island bird rookery for the chance to view up to 15,000 sea birds, and continue on through Eldred passage for possible otter, whale and other marine wildlife sightings.
Seldovia is a small, charming coastal community accessible only by boat or plane. Take time to visit the historic boardwalk and experience the incredible views. Enjoy lunch at a local restaurant, and explore the visitor center, shops, and galleries. Your boat docks in Seldovia at approximately 1 pm and departs at 4 pm, with anticipated arrival back in Homer at around 5:30 pm.
Spend your third night at: Land's End Resort
MEALS: B DRIVE TIME: minimal to/from activities
Day 9
HIGHLIGHTS: Travel to Seward / Iditarod Dog Kennel / Exit Glacier / Seward, Alaska
Breakfast as a group included.
8:30 am Depart for Seward. Seward, Alaska is a picturesque coastal community where the mountains melt into the sea. Resurrection Bay and Kenai Fjords National Park offer spectacular views of wildlife, glaciers and mountains.
Visit Seavey Ididaride. The Alaskan adventure begins with a two-mile dog sled ride. Feel the power, excitement, and energy of these amazing sled dogs as they are harnessed to comfortable wheeled sleds. Mush through the Alaskan wilderness to the base of Resurrection Mountain and along Box Canyon Creek.
Your guide will explain how they train and steer the dogs, and tell stories from the trail. Upon return to the kennel, tour the kennel facilities and cuddle adorable husky puppies.
Exit Glacier
A visit to Exit Glacier begins with a short drive along the Resurrection River. Observe the topography, vegetation and natural habitats surrounding a glacial environment. Explore walking routes vary from easy trails depicting the timeline of the retreating glacier to more moderate hiking trails leading up to the face of the glacier. Great photo opportunities.
Dinner as a group is included.
Hotel: Harbor 360 – Harbor view rooms, in the city of Seward with great views of the Boat Harbor and Resurrection Bay. Harbor View rooms with either 2 queen beds or one king. Includes continental breakfast room. Easy walking distance to shops, dining, and convenient for a walk along the bay under the late evening sun.
MEALS: B, D DRIVE TIME: 3.5 hours
Day 10
HIGHLIGHTS: Kenai Fjords National Park Tour
Hotel breakfast room.
10:30 am check in for the 6 hour Kenai Fjords National Park tour with deli lunch. This 6 hour Kenai Fjords National Park Cruise explores the world of whales, wildlife, and glaciers found in Kenai Fjords National Park.
An experienced captain narrates the journey with attention to the spectacular sights and area's wildlife, history, and geology. You will spend time in front of a towering tidewater glacier and watch for calving, where giant chunks of glacial ice break off and crash into the water.
Cruise about the islands and coves of the Alaska Maritime National Wildlife Refuge, home to thousands of nesting seabirds including puffins, common murres, and black-legged kittiwakes. Possible marine mammal sightings include seals, sea lions, and sea otters, orca, porpoises, and humpback whales.
A deli style lunch with the option of a turkey sandwich, roast beef sandwich, salmon spread sandwich or a vegetarian option is included. There is a snack bar onboard for added purchases.
Spend your second night at the: Harbor 360 – Harbor view rooms.
MEALS: B, L DRIVE TIME: none CRUISE TIME: 6 hours
Day 11
HIGHLIGHTS: Spencer Glacier Iceberg Float / Travel to Anchorage / Tour End Anchorage
Hotel Breakfast room.
Depart Seward and return north along the Seward Highway allowing a second opportunity for magical views and potential wildlife sightings in their natural habitat.
Spencer Glacier Iceberg Float: Next, take the Alaska Railroad Glacier Discovery Train to the beautiful Spencer Glacier and enjoy an easy raft tour floating amongst icebergs in Alaska wilderness. 1:00 pm check in for 1:25 pm train departing south down the Placer Valley, leaving the highway behind and into country only accessible by train.
Several hanging glaciers appear before arriving at the stop at Spencer Glacier. This wildlife habitat is populated with bear, moose, coyotes and wolves. Swans will pause here on their migration. Yellowlegs and arctic terns also will make this home. Get up close and personal to the icebergs on this scenic float suitable for all ages. This Alaskan guided tour will row you right up to picturesque icebergs on Spencer Lake.
The panoramic views of the Spencer Glacier and surrounding mountains are beautiful. From Spencer Lake, raft 7 river miles down the Placer River, where the river meets back up with the train tracks. Here, the Glacier Discovery train will stop to pick you up.
Return to Anchorage
5:15 pm Train returns to the Portage Depot where your ATG guide waits to transport you to Anchorage.
The escorted portion of your tour ends with check in at The Dimond Center Hotel. Next day departures are self-navigated with use of the hotel to airport shuttle.
MEALS: B DRIVE TIME: 3 hours
Day 12
Depart Anchorage, Alaska
Today is unguided. Your hotel provides complimentary airport shuttle. Check in with the front desk to reserve your seats the night prior. We recommend arriving at the airport 2 hours prior to flight departure time.
Check off Alaskan adventure tour package on your bucket list!
Join us on a small group tour for the best Alaska tour experience!