One seat available!  Book last seat for a discount of 5% off single occupancy rate.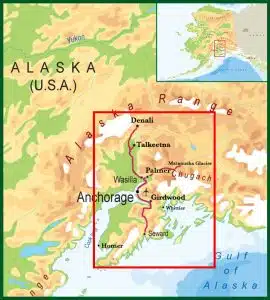 SMALL GROUP ALASKA LAND TOUR with a maximum 13 passengers and 1 Alaska resident guide traveling mainly by small coach. This tour is designated for travelers of age 13 and above.
DAILY ITINERARY:  Days begin 8-9 am and end 8-9 pm, with a little flexibility. Travel is at a comfortable pace with several stops along the way. In some locations, optional activities can be arranged for a further personalized experience.
Travelers should be able to walk unassisted (at least a city block and up a few stairs), and in good medical condition in order to participate in this small group tour. Times listed are approximate and if needed ATG may alter the schedule as needed to suit the situation.
Where meals are not included access and assistance to dining is still provided by your guide.
---
Day 1 – Arrival Day: Thursday, August 24, 2023
Anchorage, Alaska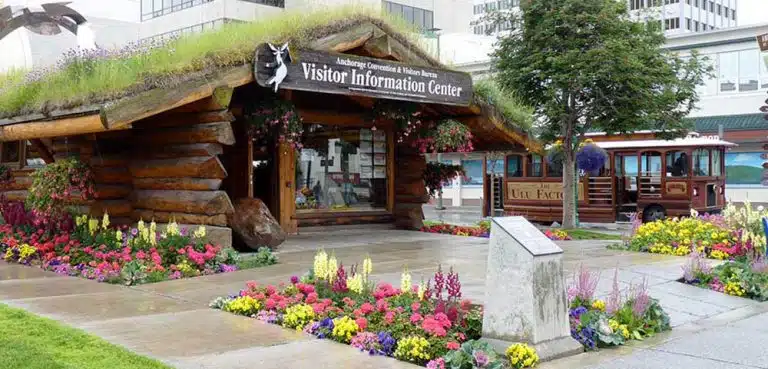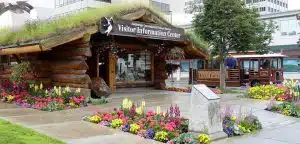 Today is the scheduled arrival day into Anchorage, Alaska.  Alaskan Tour Guides is happy to assist with additional hotel reservations for those who wish to arrive earlier.
Arrival day in unguided. (Meals and activities for this day are at your own expense. The hotel room and tax for this night is included in the tour rate.  Additionally, a breakfast voucher for tomorrow is included in the tour rate.
Hotel: The Lakefront Anchorage, formerly Millennium Alaskan Hotel Anchorage, offers modern accommodations on the shores of Lake Spenard and Lake Hood. The lobby is rich with displays of animals indigenous to Alaska, including a Kodiak brown bear, polar and black bears. Numerous king salmon, moose and caribou mounts also adorn the spacious lobby.
From a lakeside deck, guests can watch over 800 float planes land every day at Lake Hood, the largest and busiest floatplane base in the world. There are no view rooms at this property.  Deluxe rooms feature one King or two Queen beds.  This hotel offers complimentary 24/7 airport service and daily shuttle service to the downtown Anchorage area.
Day 2 – Tour Begins: Friday, August 25, 2023
HIGHLIGHTS: National Scenic Byway;  Spencer Glacier Iceberg Float; Seward, Alaska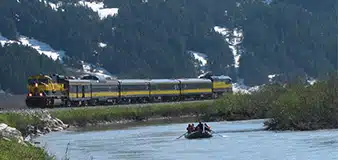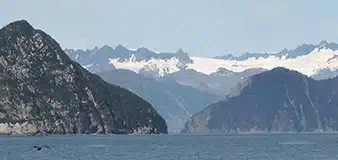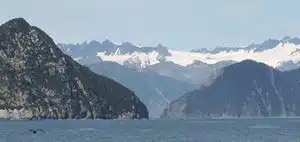 Hotel Breakfast Voucher provided. 9:00 am meet and greet your Alaskan Tour guide in the hotel lobby, ready to begin your exciting adventure. Travel with a small group, in a comfortable executive shuttle and with an Alaska resident as your driver-guide. Benefit from local resident knowledge and first hand experiences. Your ATG guide provides genuine Alaskan hospitality and concierge-level service so you have the best vacation experience possible. Depart Anchorage to travel south along the Seward Highway.
This National Scenic Byway passes through some of the most spectacular scenery in the country. The landscape varies from the muddy waters of Turnagain Arm to the icy blue glaciers that hang almost to the sea. Wildflowers and waterfalls brighten every corner of the road as it glides below rough mountains that pierce thick, heavy clouds. Only Alaska's Seward Highway can offer this particular mix created by climate, geography, and geology.
Picnic lunch is included.
1:00 pm check in to Spencer Glacier Iceberg Float: Take the Alaska Railroad Glacier Discovery Train to the beautiful Spencer Glacier and enjoy an easy raft tour floating amongst icebergs in Alaska wilderness. 1:00 pm check in for 1:25 pm departing train trip south down the Placer Valley leaving the highway behind and into country only accessible by train. Several hanging glaciers appear before the stop at Spencer Glacier.
Get up close and personal to the icebergs on this scenic float suitable for all ages. Experienced guides will row you right up to picturesque icebergs on Spencer Lake. The panoramic views of the Spencer Glacier and surrounding mountains are beautiful. From Spencer Lake, raft 7 river miles down the pristine Placer River, where the river meets back up with the train tracks the Glacier Discovery train will stop to pick you up.
Return to the Portage depot where you continue travel with your ATG guide and coach to Seward.
Hotel: Harbor 360 – Harbor view rooms. In the city of Seward, with great views of the Boat Harbor and Resurrection Bay. Harbor View rooms with either 2 queen beds or one king. Includes continental breakfast room.
MEALS: B, L  | DRIVE TIME: 2.5 hours
Day 3: Saturday, August 26, 2023
HIGHLIGHTS: Kenai Fjords Wildlife and Glacier Cruise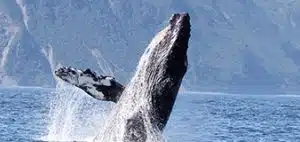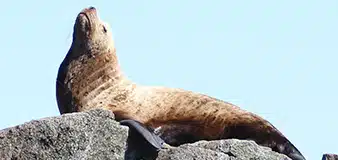 Hotel Breakfast room provided.
10:30 am check in for the 6 hour Kenai Fjords National Park tour with deli lunch. This 6 hour Kenai Fjords National Park Cruise explores the world of whales, wildlife, and glaciers found in Kenai Fjords National Park. Experienced Captains will fully narrate your journey and will point out the spectacular sights while providing information on the area's wildlife, history, and geology. You will spend time in front of a towering tidewater glacier and watch for calving, where giant chunks of glacial ice break off and crash into the water. Cruise about the islands and coves of the Alaska Maritime National Wildlife Refuge, home to thousands of nesting seabirds including puffins, common murres, and black-legged kittiwakes. A deli style lunch is included. Snack bar onboard for added purchases.
Dinner as a group is included.
Spend your second night at the Harbor 360 – Harbor view rooms.
MEALS: B, L, D | DRIVE TIME: none | CRUISE TIME: 6 hours
Day 4: Sunday, August 27, 2023
HIGHLIGHTS: Exit Glacier Walk; Alaska Wildlife Conservation Center; Wasilla, Alaska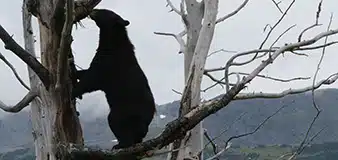 Hotel Breakfast room provided.
A short drive along the Resurrection River toward Exit Glacier to observe the topography, vegetation and natural habitats surrounding a glacial environment. Walking routes vary from easy trails depicting the timeline of the retreating glacier to more moderate hiking trails leading up to the face of the glacier and great photo opportunities.
Travel day north returns along the Seward Highway allowing a second opportunity for magical views and potential wildlife sightings in their natural habitat. As well as time to explore some other special points of interest.
Lunch stop included.
The Alaska Wildlife Conservation Center is a non profit organization that cares for rescued wildlife, injured and/or orphaned. They promote better awareness of Alaska Wildlife conservation methods through public education and a fantastic opportunity to photograph Alaska wildlife up close. See moose, brown and black bear, wood bison, musk ox and many more rescued animals.
Continue travel north of Anchorage to the "Mat Su Valley." The Matanuska Susitna Valley lies an hour north of Anchorage and covers over 23,000 square miles. It is bordered by two mountain ranges and the Upper Cook Inlet, and has over 3,000 rivers, lakes and streams. This region is a favored recreational spot for Alaska residents, and is not developed for large coach tours, so you get into the real Alaska, away from the crowds.
Wasilla, Alaska is located in the heart of the Matanuska Susitna Borough and the sixth largest city in Alaska. Established at the intersection of the Alaska Railroad and Old Carle Wagon Road, the city prospered at the expense of the nearby mining town of Knik. Wasilla is named after Chief Wasilla, a local Dena'ina chief. Wasilla is also home of Iditarod founders, Joe Reddington and Dorothy Page.
Dinner as a group included at a local restaurant.
Lake Lucille Inn guests enjoy beautiful mountain and lake views along with comfortable accommodations. Guest laundry and wireless internet available. A full hot breakfast buffet is provided each morning. Deluxe rooms feature a lake view.
MEALS: B, L, D | DRIVE TIME: 3.5 hours
Day 5: Monday, August 28, 2023
HIGHLIGHTS: Independence Gold Mine Tour; Palmer, Alaska; Musk Ox Farm
Hot Breakfast provided by Hotel.  Today explores the Mat-Su Valley area's gold mining and agriculture history.
Hatcher Pass is breathtakingly beautiful. Its granite mountain peaks jutting up from the wildflower covered tundra, and pristine mountain streams meander through the valley below. Panoramic views and short nature walks are pleasing for outdoor lovers. Excellent hiking opportunities exist for those who are looking to fully stretch their legs.
At the top of Hatcher Pass is the historic Independence Mine, which is protected by the Alaska State Parks, offers a preserved experience of what life was like back in the Gold Rush. Paved interpretive trails, historic buildings and exhibits can all be explored. An ideal experience for someone looking for the slower pace of absorbing some history.
Enjoy a picnic lunch.
Return drive along the scenic byway to Palmer, Alaska. This is where colonists first settled in the early 1930's as part of Roosevelt's New Deal. It's centered around agriculture and surrounded by impressive mountain peaks. It retains its country charm and now is home to 4th generation Alaskans.  Spend some free time exploring downtown, historical buildings, and tours.
A short visit and tour of the Musk Ox Farm where we see the descendants of the Woolly Mammoth and to learn how the native Alaskan people use the very fine fibers to make incredibly light weight and warm clothing. Musk Ox were and still are connected to the native Alaskan culture.
Spend your second night at the Lake Lucille Inn.
MEALS: B, L  | DRIVE TIME: 1.5 hours
Day 6: Tuesday, August 29, 2023
HIGHLIGHTS: Dream a Dream sled dog kennel tour and ride; Talkeetna, Alaska;  Optional: Flight tour;  Denali, Alaska
Hot Breakfast provided by hotel.
8:00 am Depart for travel north to Denali.In route stop in Willow, Alaska the heart of mushing country to tour Dream a Dream kennels and meet the team of Vern Halter, a veteran Iditarod musher. Presentations weave the history of the Iditarod into an informative and interactive experience. Meet with the huskies who make up this incredible team of athletes. Enjoy a short nature walk with the newest members, cute puppies abound!
Then take a ride on a multi-seat All Terrain Vehicle with the option of standing positions too. These dog limos are the coolest and most realistic way to ride with a sled dog team in the summer months. It's great training for the dogs and you'll see how they love it! End with lunch and time to interact with mushers while enjoying delicious deli meats & cheeses, salad and dessert.
Talkeetna, Alaska is a historical frontier town with lots of Alaskan flavor! The rustic and charming community is popular with visitors and offers a lot of hospitality with a choice of delicious eateries, quaint shops featuring local artists and even its quirky museums. Some of the best views of the Alaska range and Mt. Denali are seen from this location if weather permits. There's also a bit of adventure in the town if time or budget allows.
OPTIONAL: Talkeetna Air Taxi take a Southside Explorer flight tour with a glacier landing. This #1 highlight is a robust introduction to Denali and the Alaska Range. Follow the river systems of Talkeetna across the Susitna Valley into an incredible landscape of icefalls, glaciers and snowy peaks. Land on one of Mt. Denali's glaciers and experience the awe of standing among great peaks, the immense scale will astound you. Added cost.
Continue the drive to Denali park with dinner as group included in route.
Denali Lakeview Inn sits on a quiet lake and each room has lake and tundra views. These accommodations are clean and comfortable with numerous amenities. Each room has it's own breakfast corner with continental breakfast choices, a table and chairs, a private deck the overlooks the lake. Watch for wild life across the peaceful lake.
MEALS: B, L, D | DRIVE TIME: 4.5 hours
Day 7: Wednesday, August 30, 2023
HIGHLIGHTS: Denali – Custom Day; Denali Park Visitor Center
In-room Breakfast corner with continental breakfast choices.
Explore Denali your way. Choose from a variety of adventures and experience this National Park at your own pace. Any costs for additional adventures will be added to your final tour payment.
Leisure and no cost activity choices include the Denali Visitor Center, hiking front country trails, taking the free shuttle to Savage River trail for hiking, shopping, or relaxing at your lodging.
Moderate to higher cost adventures include river rafting, a choice of easier floats or exciting whitewater; ATV tours driving single seats or riding double to quad; and Zipline adventures.
The Denali National Park Visitor center offers Denali's visitors a chance to learn more about the park by interacting with rangers, viewing the award winning film "Heartbeats of Denali," and exploring the exhibit area. The building boasts a number of environmentally sustainable features. The Denali Bookstore offers an extensive collection of educational materials on the natural and cultural heritage of Denali.
Lunch and dinner meals today are on your own and not included in the tour rate.
Spend your second night at the Denali Lakeview Inn.
MEALS: B | DRIVE TIME: minimal to/from activities.
Day 8: Thursday, August 31, 2023
HIGHLIGHTS: Denali National Park Shuttle to East Fork Bridge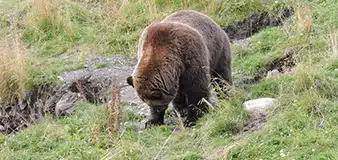 In-room Breakfast corner with continental breakfast choices.
7:30 am Depart for Denali Park entrance. 8:00 am to 2:00 pm Denali Park Shuttle to East Fork Cabin. Denali National Park and Preserve, located in Interior Alaska, featuring Denali (Mt. McKinley), the highest mountain in North America, encompasses more than 6 million acres and provides visitors with the experience of a lifetime.
The Denali Park Road parallels the Alaska Range and travels through low valleys and high mountain passes. It's the only road inside the park. Along its route, beautiful landscapes can be seen at every turn, and a view of Denali is possible – if weather permits. Wildlife can often be seen, though sightings are not guaranteed – they are, after all, wild animals roaming an unfenced land.
Your turnaround point is at mile 43 of the park road, near the East Fork Cabin, a rustic log structure with a history of sheltering rangers and researchers since the 1930s. This shuttle travels 43 miles one way, 6 hours round trip. It stops every hour and 15 minutes for view points and restroom stops. It also stops anytime wildlife is sighted.
Your ATG guide will arrange for a boxed lunch for you to take along.
Spend your 3rd night at the Denali Lakeview Inn.
Dinner as a group is included.
MEALS: B, L, D | DRIVE TIME: 15 minutes | PARK SHUTTLE: 6 hours – not all drive time
Day 9: Friday, September 1, 2023
HIGHLIGHTS: Alaska Railroad Goldstar – Denali to Talkeetna;   Anchorage, Alaska
In-room Breakfast corner with continental breakfast choices.
11:20 am check in to board The Denali Star, the Alaska Railroad's flagship train, GoldStar Service from Denali to Talkeetna. On this route, sparkling salmon streams and stands of birch and spruce come into view, while carpets of fireweed add dramatic purple to the landscape. Enjoy first-class service aboard double-deck dome cars. Luxury rail travel has never been better.
Reserved upper-level dome car seating, upper-level outdoor viewing deck, exclusive lower-level dining room, lunch and two adult beverages included. Order from the menu of Alaskan cuisine including choices that vary from seafood to reindeer sausage. Adult beverage menu includes award winning Alaskan brewery selections. The train departs at 12:20 and your guide will drive with luggage and meet you in Talkeetna at 4:40 pm.
5:00 pm Travel continues onboard your ATG coach for the final segment into Anchorage.
8:00 – 8:30 pm The guided portion of your tour ends with check in at the Anchorage Lakefront Hotel. Tomorrow is an unguided departure day. The hotel offers complimentary shuttle service to the airport.
Hotel: The Lakefront Anchorage, formerly Millennium Alaskan Hotel Anchorage, offers modern accommodations on the shores of Lake Spenard and Lake Hood. From a lakeside deck, guests can watch over 800 planes land every day at Lake Hood, the largest and busiest floatplane base in the world.
Deluxe rooms feature one King or two Queen beds.  No view rooms at this property.
MEALS: B, L | RAIL TIME: 4.25 hours | DRIVE TIME: 2 hours
Day 10 – Departure Day: Saturday, September 2, 2023
Today is unguided. Your hotel provides complimentary airport shuttle. Check with the front desk to reserve your seats the night prior. We recommend you allow 2 hours between airport check-in and flight departure.
E-mail: info@alaskantour.com